After more than two weeks with unusually low water for early June (down to 11c cubic at Gaulfossen!) our rain dances, prayers and pagan rituals finally paid off, and we received some rain and the water rose back to normal summer water level. We capitalized on the conditions, and were able to land a good number of fish since the rise of the water starting Friday last week. Sunday was great day for our good friend Thomas Mahnke – during the early morning he was able to catch and release a good fish of about 6.5 kg (14lbs) on Beat B1 and during the early afternoon he hooked another great fish on Beat E2, super fresh and simply as beautiful as a salmon gets.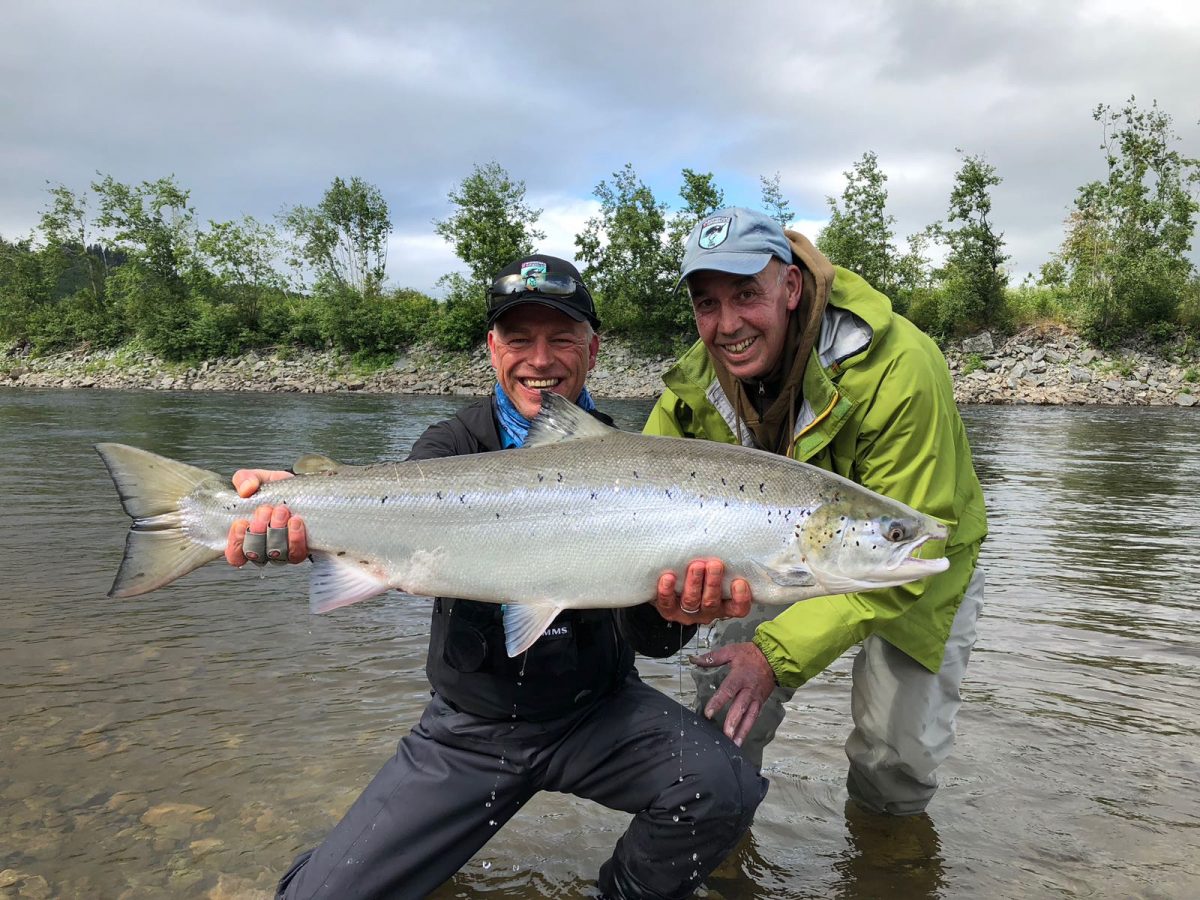 Thomas Mahnke with guide Simon and his superb fish of 105cm – 11kg (24lbs) from Best E2.
During the "dead" low water we saw plenty of fish running, even though in such low water, one would think the fish cannot make their way upriver between the pools- they somehow manage. At times we saw 50 to 60 fish passing by the Lodge, but with such low water, and bright sun, they were tough to get to take the fly. But our Irish guest Kerry Hardy, persisted, and continued fishing hard and caught a fresh fish on Beat BS1.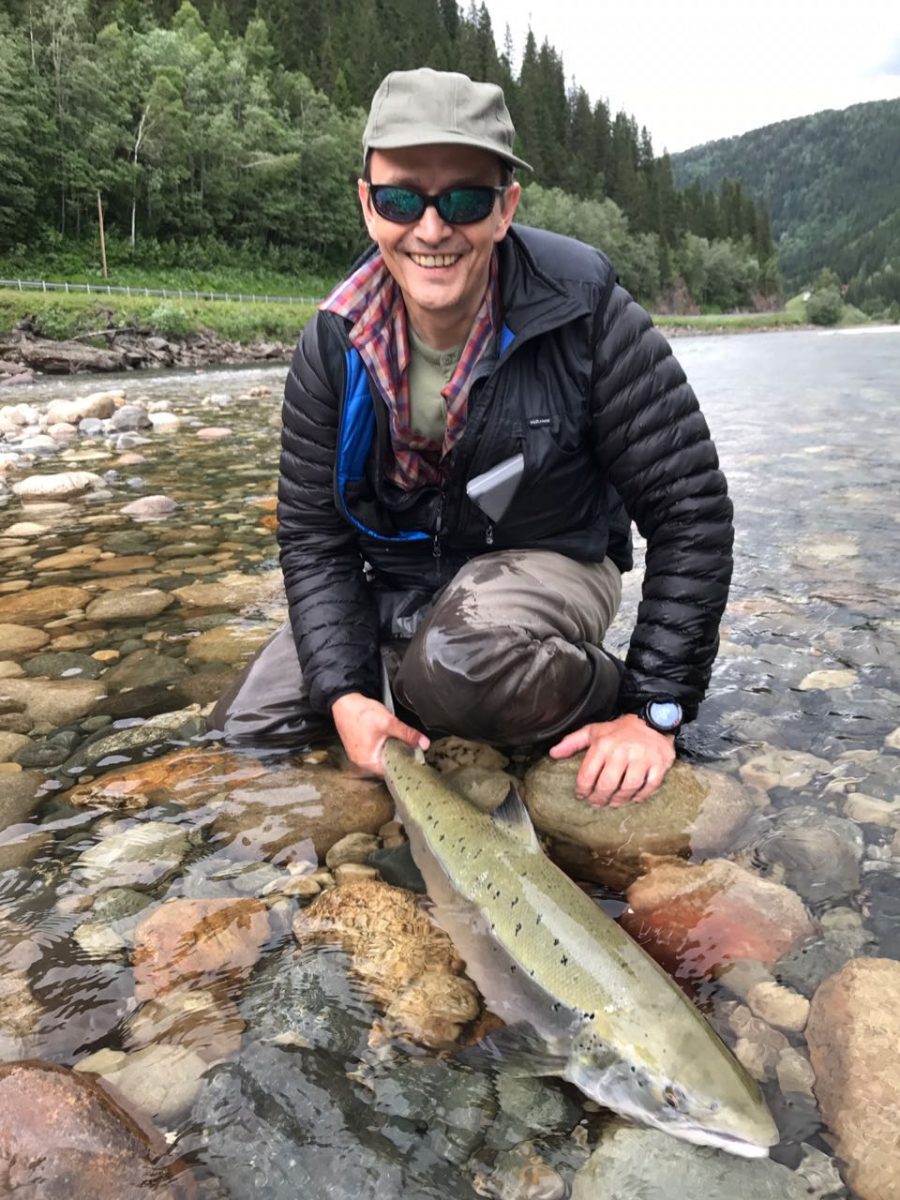 Kerry Hardy with his nice fish of about 5kg (11lb) from Beat BS1.
Also Eilif Eckhoff from Norway managed to catch a very nice fish on Beat E6 in just 11 cubic at the Gaulfossen gauge, estimated to weigh about 8kg (17.5lb).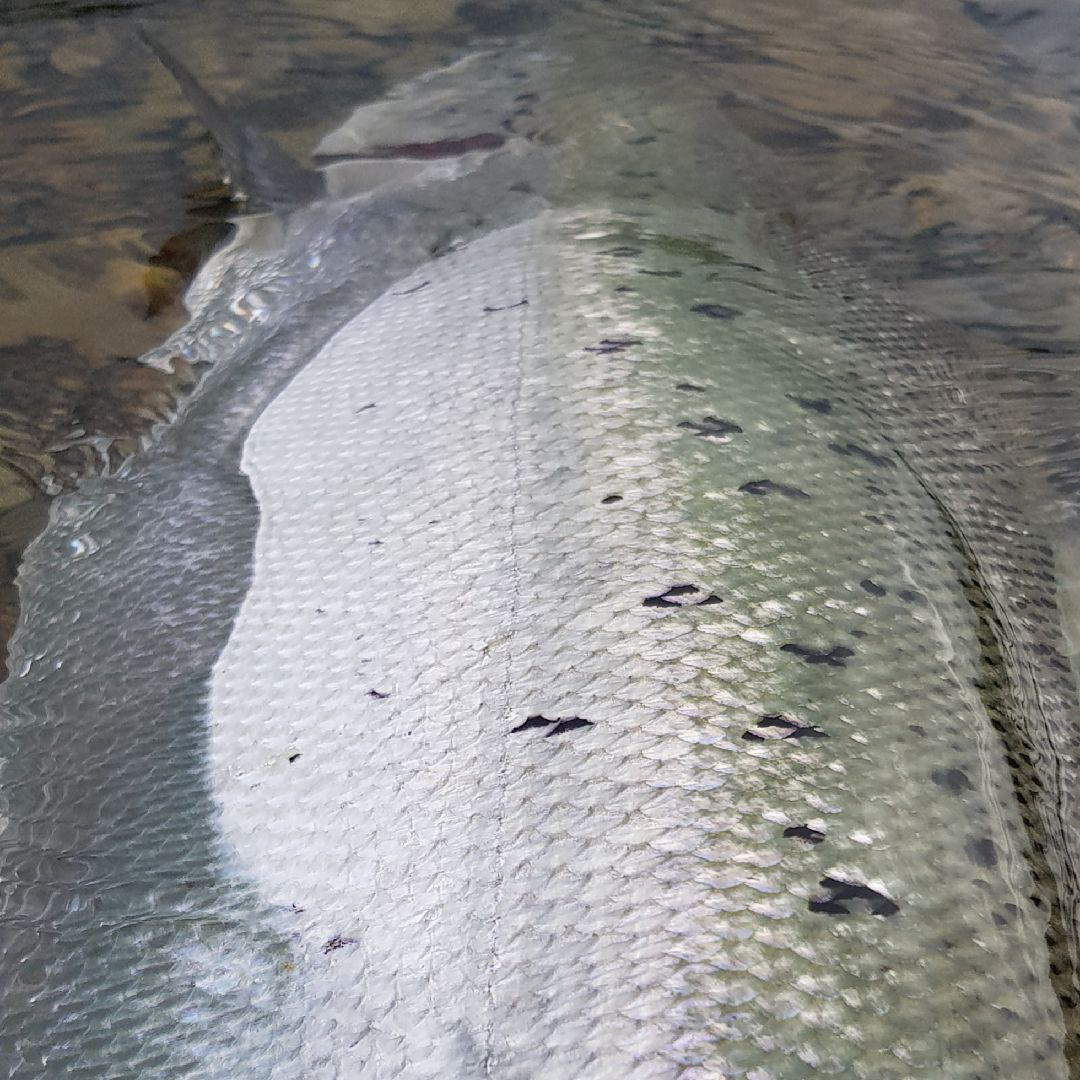 Close up from Eilif's fresh salmon.
And there it goes…great to see them released again.
Just before the water startet to rise our Japanese regular guest Takuo Noda managed to catch a fish of the same size on Beat E1a.
Takuo's salmon from the E-Beats.
While the water rose quickly, german guest Thomas Mechler was lucky on Beat C2 and caught another medium sized salmon of 85cm.
Thomas Mechler with his nice fish from Beat C2.
The next day, we finally had good water flow again, over 60 cubic and Fabrice Bergues took his chance on the other side of the Lodge Pool and fished the small pocket. A big salmon took his fly and he after good fight he was able to release a super fat fish of about 13kg (28.5lb).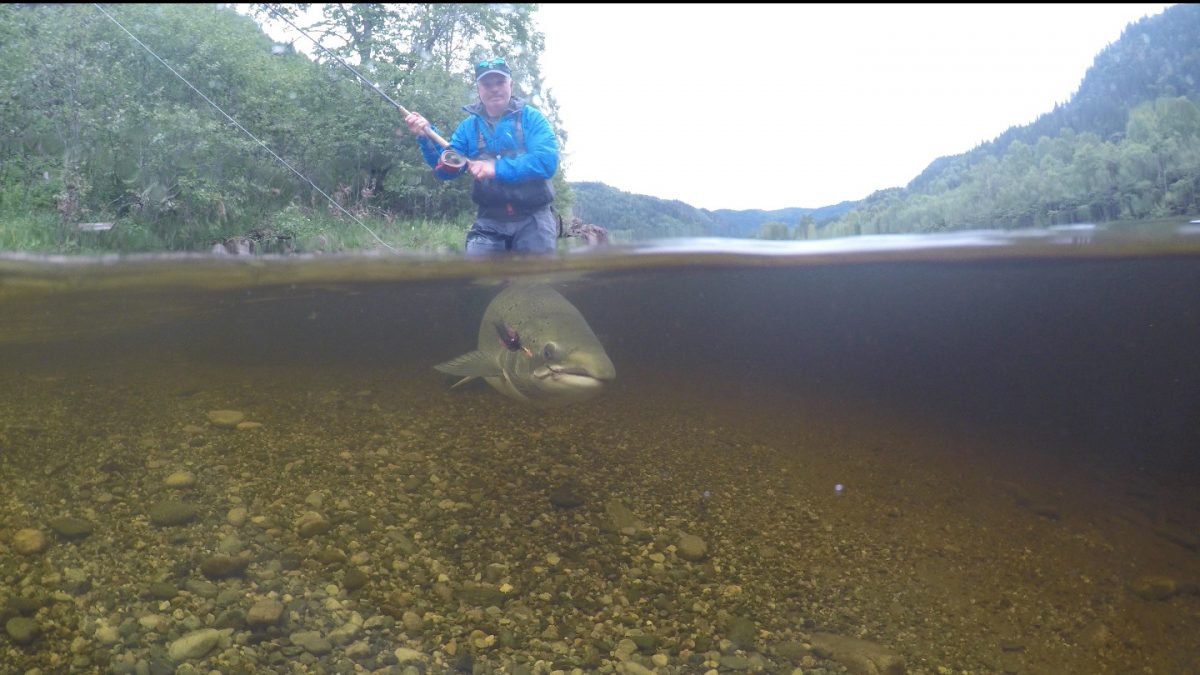 Fabrice playing his big fish.
And there it goes back.
Austrian long time regular guest Johan Bstieler caught a nice salmon on B1 of about 8kg (17.5lb). And also German guest Dieter Brede was able to land a smaller salmon on of about 3,5kg (8lb) on Beat E1.
Dieter with his salmon from the E-Beats.
During the evening Mawill Lüdenach fished our BS2 – which is usually a great spot after a the water level rises, and he was able to prove that theory again, as after only 15 min of fishing he hooked into a big fish. Sadly the fish was deeply hooked and had to be kept, but what a great fish it was!
Mawill with is male salmon of 12,6kg (27.7lb).
Next up, it was Rodney Boswell from UK, who shortly after he arrived- took him only 1 hour of fishing to land his first Gaula salmon of 5kg (12b). Rainer Heneka was also able to catch and release his first Gaula salmon during the first night of fishing on Beat BS1 – a good fish of about 8kg (17.5lb). And Thies Reimers caught his next salmon, this time on Beat G1 – estimated to weigh about 9kg (20lb).
The salmon from Beat G1, once again caught by Thies Reimers. He really knows the river very well!
As mentioned on top of the page Thomas Mahnke caught this beautiful salmon on Beat E2. Here another view of his perfectly proportioned silver torpedo!
Those fish from the E-Beat, right from the sea are the just amazing – well done, Thomas!
Then it was our new chef Andreas Winter, who between cooking up delicious meals for our guests, took a chance during his off time and tried some casts in the top of our Lodge Pool (Rønningen). He was lucky enough to not only land one, but two fish during a short session!!!
Andreas with one of his salmon from that day. 
And fish Nr 2 for Andreas – at the same spot. Well done chef!!
Next it was our local NFC employee, Erlend Granøien who took some casts during his free time at Beat C2. A guest let Erlend fish the pool- and it didn't take long until he was tight to a nice bright fish of about 5kg (12b) – it seems a lot of fish of that size are running the river now. They are great fun on smaller double handed rods.
Erlend with a short and fat salmon from Beat C2 – very fresh!
After work Thies Reimers went out again, did a few casts at Beat Bs1 and of course, he hooked into a fish. Another salmon of 6kg (13b ) for Thies in the books! He is on fire this season, and it is well deserved!
Thies with his next salmon from Beat BS1  – good to see all those medium sized salmon running!
Since writing this, the water has been dropping the last few days again and now we back to very low conditions again, but still we see so many fish moving and are able to hook fish in the fast water. Also reports of some very big fish been caught over 40lb on other parts of the river came in and they will certainly swim through our waters as well. Hopefully one of our guests is lucky enough to be the one to entice one of these giants for which the Gaula is so famous.
We will keep you posted!
You team of the
Norwegian Flyfishers Club