The conditions got day by day better. The water temperature is rising and the water levels dropping down to under 100 cbm at the Gaulfossen Gauge, which means salmon can pass constantly the rapids easily. So it was no wonder that we caught a good number of great fish above during the last couple of days. Either way, the firs fish of this report was caught once again on Beat E6 by German angler Eric Ottens – a fantastic fish of 101cm.
Eric holds his beautiful fish of 101cm – congratulations!
Another salmon has been caught on the very same Beat the following session by long time regular guest Bruce Lindley from England.
Bruce with his salmon of about 6,5 kg (14b).
Also Heiner Büschen caught a fish of the same size in the very same Pool. Beat E6 has been by far the best Pool during the opening weeks for us – that proofs that every year is different, the spring floods and the ice changing the river constantly – very exiting to see each year the changes of the Pools – to the good or bad, you just have to find out!
David Swain had a great week, he caught 3 nice fish, starting with a 90cm from Beat G1 in our middle reaches , the next fish of 103cm at Beat E1 in the lower river and then the 3rd fish up on our highest Beat in BS1 of 83cm.
David Swain with his 90cm salmon from Beat G1.
David's great fish of 103cm down at Beat E1.
After some tight days for our English guest Fergus Kelly, he finally hooked into a great fish on our Beat G1 – shortly later he was bale to land a stunning salmon of 97cm, actually looking way bigger – well done, Fergus!
Fergus with a superb salmon – just as they should be! 97cm bar of silver from Beat G1.
Thies Reimers fished during the late evening Beat C1, just to try if it would fish with over 90cbm – usually that is too much water for that Beat but Thies found a small spot where a salmon might take y fly and it did – another 97cm salmon of about 9kg (20b).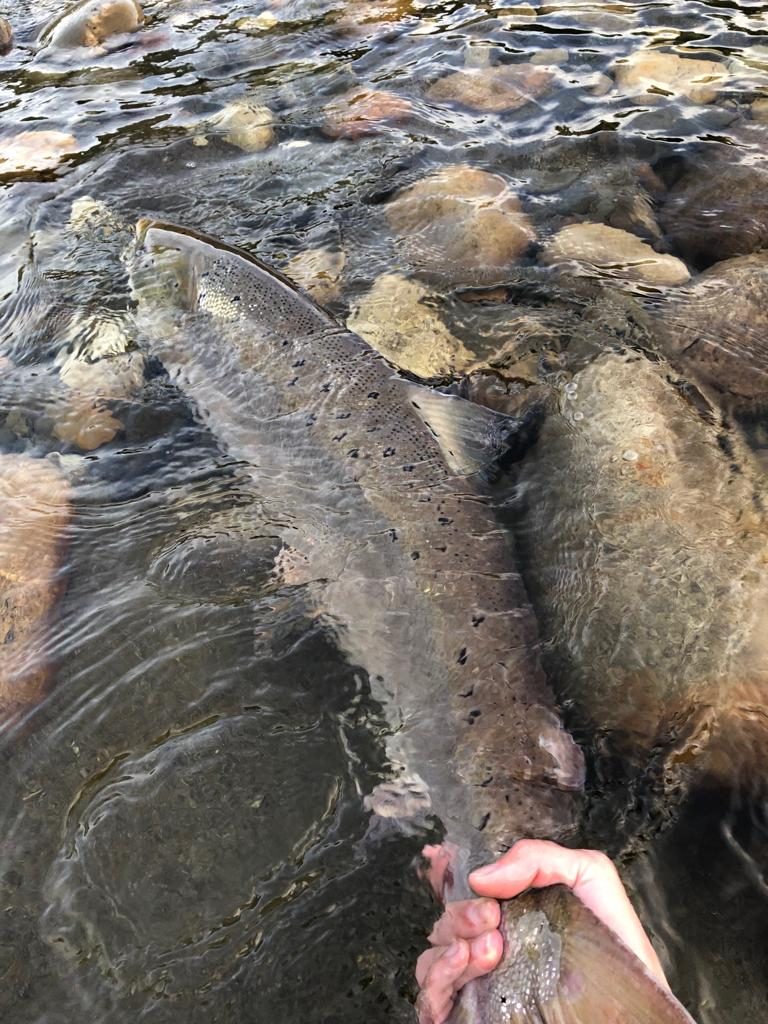 Thies with his 2nd fish for the season – 97cm from Beat C1.
Manfred Raguse was able to catch and release two fish during the week. One salmon of 97cm at Beat E7 and another nice fish of 93 cm at Beat C2.
Also our Belgian guest and long time regular Jean-Luc Verstraeten got his June salmon – a salmon of 100cm hooked in Beat G1 and landed the Pool below!
The moment when you realize what you just have caught – taking out a 100cm salmon of a net which your friend has just landed for you.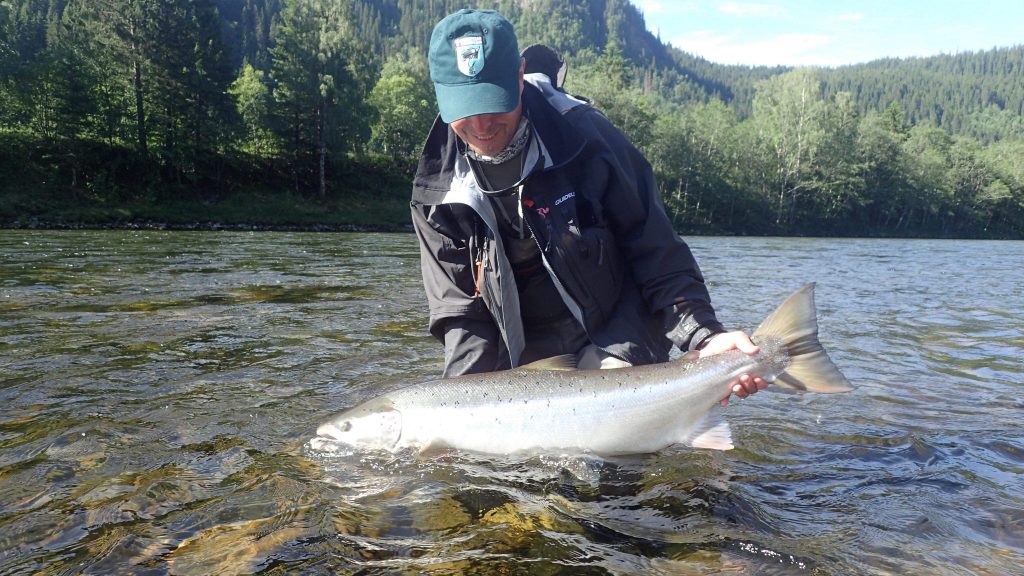 Jean-Luc holds his great fish from Beat G1!
Under water they look even bigger!
Great to see them swim away! Well done, Jean-Luc!
Gerald Schimetta from Austria arrived and started his fishing week with perfect salmon of about 9kg (20b) at Beat BS2. During the night a lot of fish have been moving, so we have not been surprised that there is a good chance to catch a fish on that Beat and Gerald did not need a long time to land his first Gaula salmon 2019.
Happy Angler! Gerald with his beautiful salmon from Beat BS2.
Just a bit later during the morning regular guest Thomas Mahnke from Germany fished Beat BS1, just one Pool above BS2 and caught another great fish up there. After a very strong fight Thomas was bale to catch and release a quite fat salmon of 97cm.
Thomas and his salmon from Beat BS1 – beautiful salmon of 97cm.
Norwegian guest Guttorm Kringlen caught another great fish on Beat BS1 of about 7kg (15b) and also the following session up on Beat BS1 ended with another superb fish for Rolf Spjelkavik. His salmon measured 102cm and got safely returned, of course!
Rolf is holding that beautiful lady of 102cm.
This morning it was again Gerald Schimetta who was able to catch another early morning fish at Beat C2 – again about 9kg (20b). Gerald has not been eying fishing 3 days and caught already two great fish! Let's see if he continues catching fish…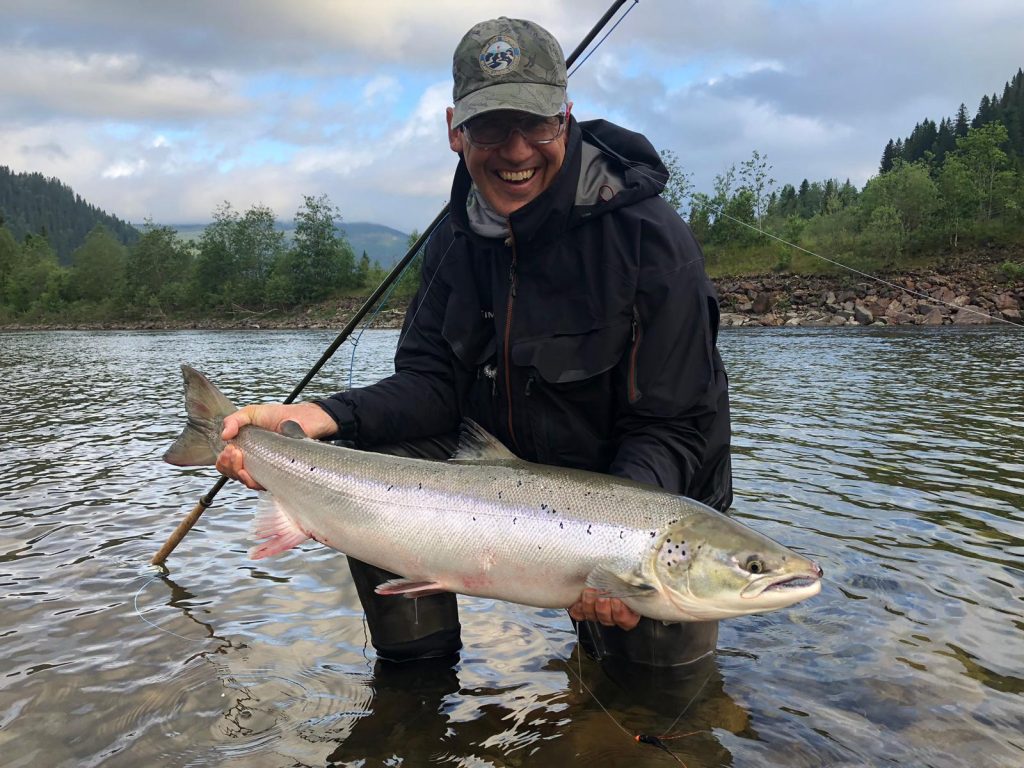 Gerald Schimetta with salmon Nr.2 from this morning at Beat C2 – about 9kg (20lb).
We are very exited what will happen the next few days, some rain is in the forecast, maybe we get a good push of water and suddenly we have high water again – who knows, anyway the fish are spread out in the whole river and its just nice to ba bale fishing basically all our Beats with hope to catch one of Gaula's big salmon! We will keep you posted.
Sincerely,
your team of the
Norwegian Flyfishers Club