As the weather gets colder, and we dream back on our memories of big fish landed and lost during the 2018 summer, we have now all settled back into our  "winter homes" in the United States and Germany, and are already filling our weeks for the 2019 season at the Norwegian Flyfishers Club on the Gaula. For those of you who have not been contacted, or contacted us to lock in your rod for the coming season, now is the time, as space is quickly filling up, and only some few spots are still available, we look forward to hearing from you.
The 2018 season was, as everyone knows, somewhat unique with the drought in June, July and early August and the incredible backend fishing we experienced in August. While most patrons will keep their coveted spaces in primetime weeks, we can certainly say that while August is normally not considered prime time, 2018 has once again proven how good August can be, with a steady mix of fresh fish and residents, grilse and large salmon, the fishing can be quite exciting. And while there are very few spaces in prime time, we will do our best to accommodate any and all to get the week of their choice.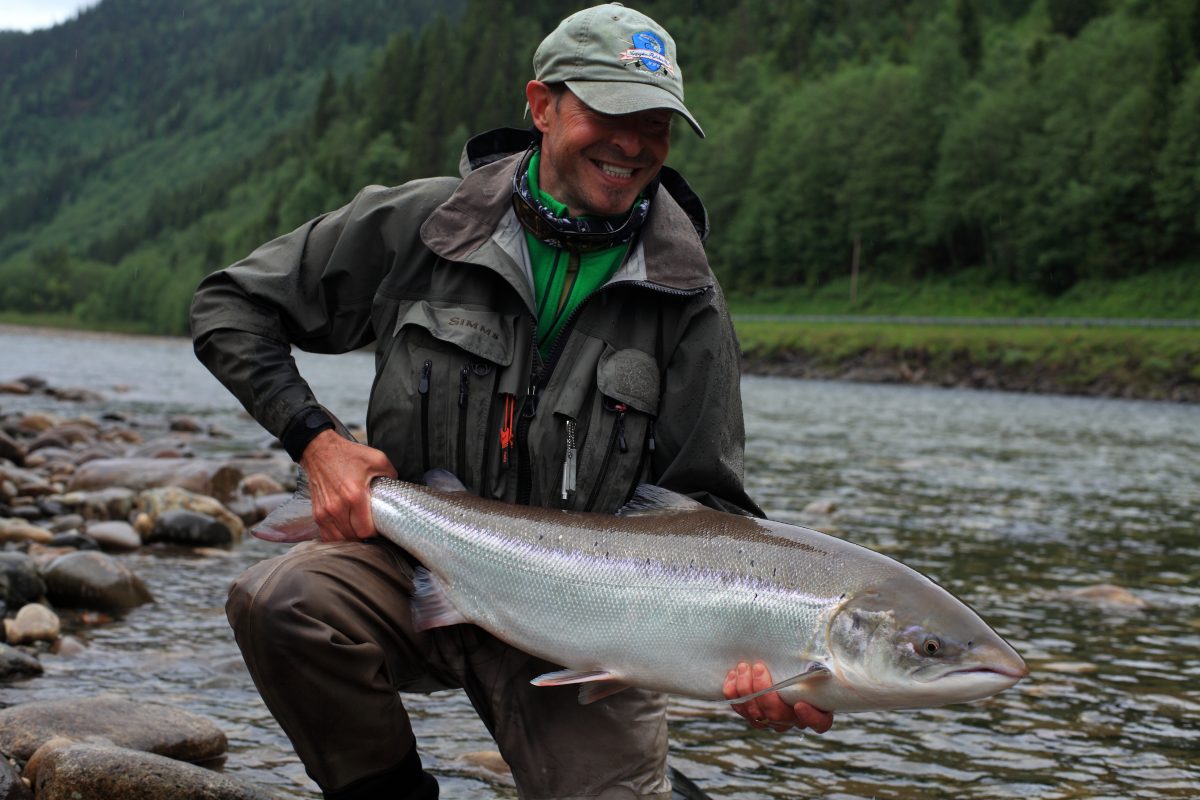 Jean-Luc holds a early June salmon on Beat BS1 – look at that bar of silver.
Early June is a very interesting time for experienced fishermen. The water levels are usually high and we are fishing big rods and heavy gear – it is not fishing for numbers but any take can be a fish of  a lifetime! The early fish are usually big, bright and always fresh from the sea! We have several free rods in in the first two weeks of the season – so anyone excited by the quest for big and silver fish, that is the right time to come out and visit us.
July is traditionally prime time, and while we have very limited space, and waiting lists for the prime weeks, we have a very few limited return rods who have canceled, opening up for some availability. July fishing is normally done with lighter tackle than in June. Floating lines and sink tips are the norm, and flies can be reduced in size as well. The number  of fish has increased and all sizes of fish can be caught, from a "huge beast" to smaller grilse – there is always a lot of action in each pool as fresh fish mix with residents. Until the end of July it is 24hrs of light on the Gaula, so we often fish in the silence of the night, in the dull light- to avoid the hot, bright sunny days is a key to success. It is just beautiful to be out there. The later part of June throughout the end of July is "prime time" on the Gaula, so usually there is no chance to get a rod in that period, but due to some rearrangements of our bookings of return guests, we do have a few options!
August is always a bit of lottery. Yes, there can be lower water levels, which can mean more challenging fishing, with varied techniques, but still even in very low water the Gaula produces fish – as well as fresh fish coming up river on a steady basis. But if there is any kind of rain, or the water level is "normal" to high, which can quickly happen with any thunderstorm, the fishing can turn on, and be fantastic – as most of you saw in our posts from last August. The river "explodes" and fish are moving everywhere. You will be catching fresh fish, colored fish, big fish and medium and smaller fish. The river in August is full of salmon and often the biggest fish of the season are caught during the backend. A few weeks in August are already booked but we still have a good number of free rods for a great price – especially for the budget focused angler, this is a great opportunity to fish a world class Atlantic salmon fishery at a fraction of the cost – and if you are lucky with the conditions, fishing is as good as in prime time or even better in some days of the month.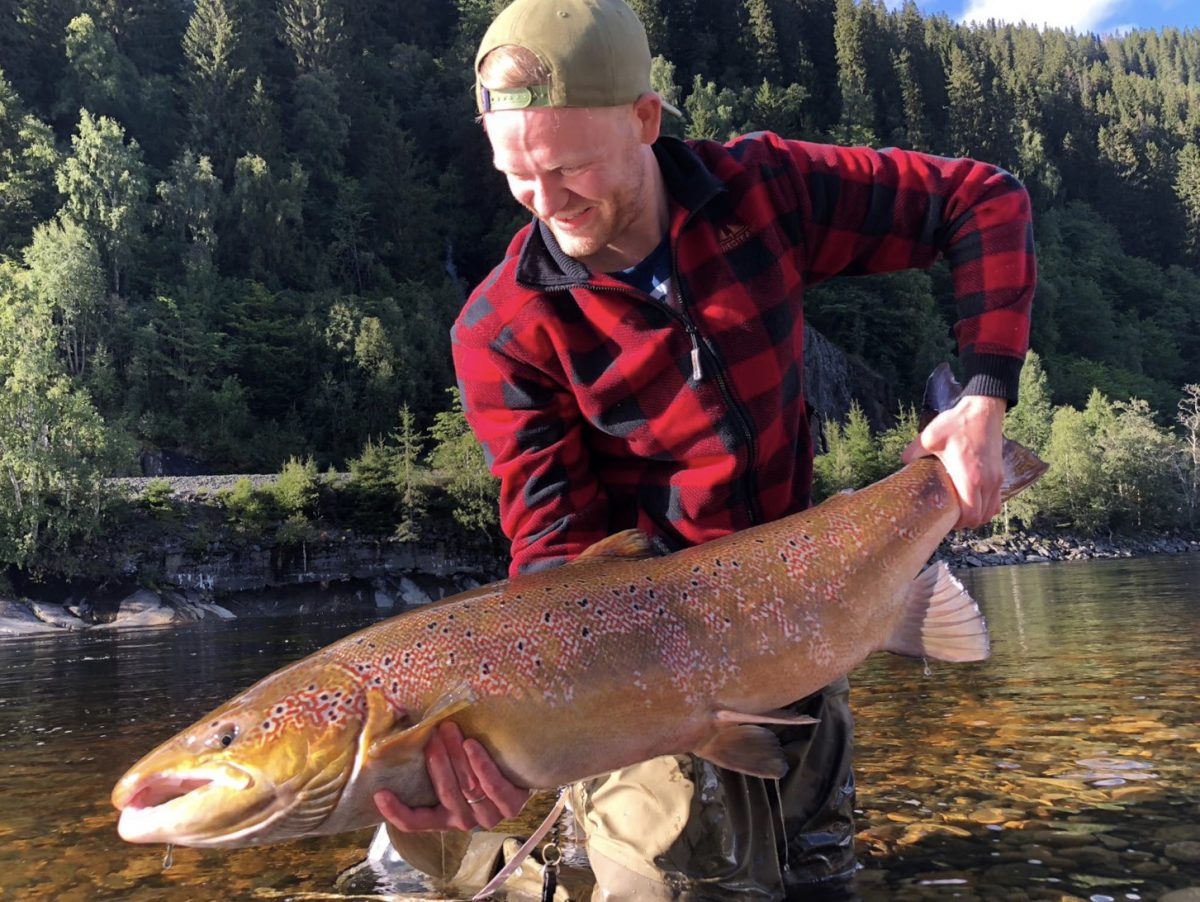 Erlend with his August "beast" from summer 2018.
We have now locked in all re-bookings from 2018 for the 2019 season, which means we know who is returning and who has changed their week. So these coming few weeks is the right time to secure your rod(s) if you haven't done it yet, before the season is fully booked once again.
The prospects for the coming season is really hard to say, we have to wait to see how the winter unfolds, and see how the early spring develops but what we already can say now is that due to the great number of medium sized fish in summer 2018, the chances for a big salmon year 2019 are very good!
So it might be one of those years to catch a few Gaula monsters – we would love to share the experience with you!
Get in touch via Email, Facebook or phone and we will try our best to accommodate  you in your desired week.
Sincerely,
Your team of the Norwegian Flyfishers Club