After landing our first two salmon, reported in our previous update, the fishing has continued to be exciting. The 2nd day of the season delivered 4 great salmon. Our French guest Philip Butcher was able to land a nice salmon of 92 cm on Beat BS1 while Hernan Gracia  caught the biggest salmon for us so far on Beat BS2 – a 99cm female, which was quite fat, so probably weighing more than 10kg (22lbs).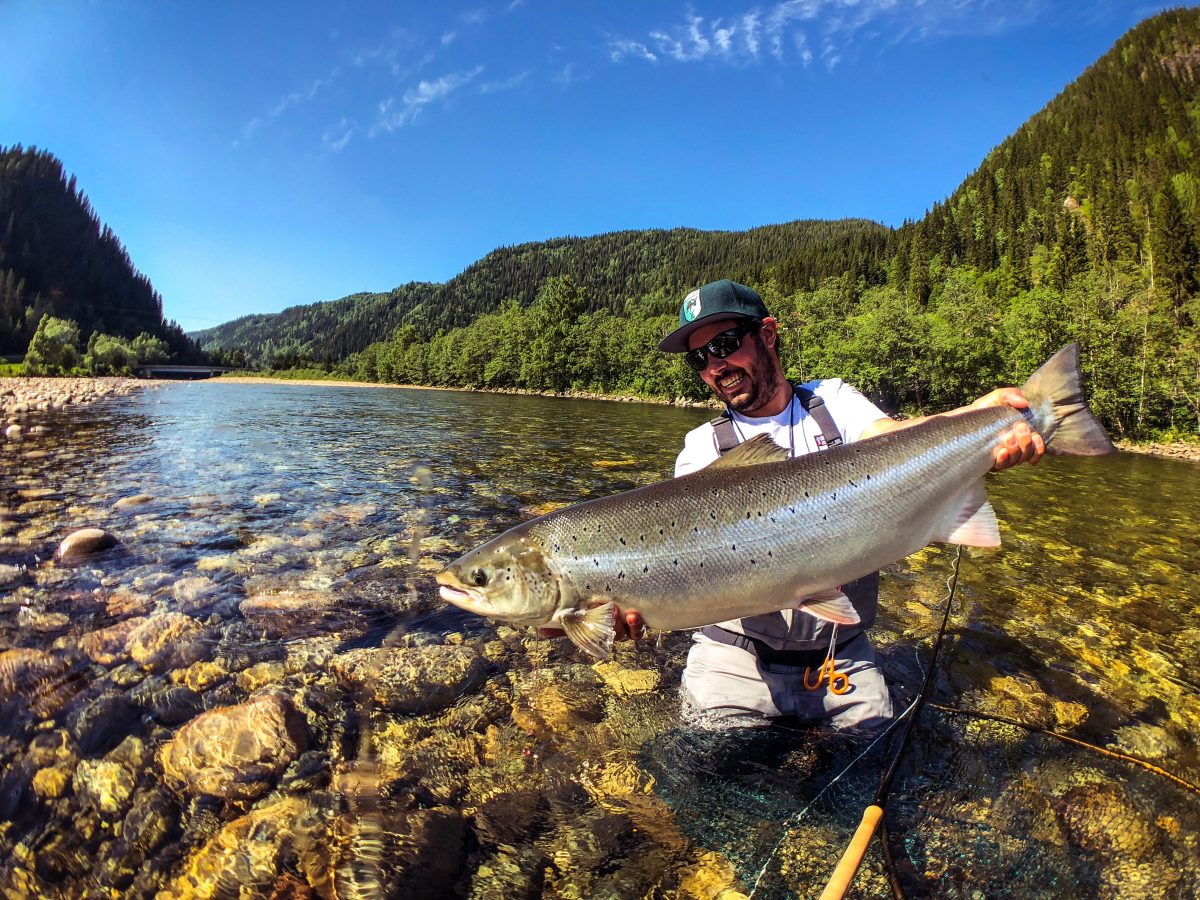 Hernan with his beautiful hen fish from Beat BS2 – 99cm/10kg+ (22lbs+). 
That feeling is simply the best – Congrats Hernan!
During the evening it was again Thies Reimers who was able to land his 2nd salmon of the season on his 2nd day of fishing after finishing his day's work at the lodge. It seems as though Thies is on fire so far!
Thies with Nr. 2 for him – approx. 7kg (15lbs) from Beat E7.
NFC's Daniel Stephan went fishing after closing the Lodge for the evening, and was able to catch and release a very fresh fish on Beat C1 after a good fight.
Daniel's bar of silver from Beat C1.
Next was our good friend and photographer, Matt Harris, who showed up the day after the opening and after losing a fish on Beat C2, he returned after lunch, and was able to land a nice fish around 7/8kg (15-17lbs) which he of course released after a quick photo.
A familiar picture over here – smiling Matt with a salmon in his hands! 
Italian fisherman Alessandro Negri fished Beat D2 and was able to land another good fish of 95cm. It seems D2 is the "Italian Pool" so far this season!
The 2nd fish from Beat D2 – this time it was Alessandro Negri with a good fish of about 8,5 kg (19lbs)- measuring 95cm.
Next up it was French guest Jean-Luis Pradel who caught his first Gaula salmon on Beat C2 yesterday, he estimated it to weigh about 8kg (17.5lbs).
"Lou Lou" with his nice salmon from Beat C2.
Its seems there are lot fish between 7 (15lbs) and 10kg (22lbs) in the river, but we are sure the really big ones are on their way and it is only a matter of time until we land a much bigger fish. We have heard reports from neighboring rivers that they have landed some huge fish already – so we are expecting their arrival to the Gaula any day. This season start is very exiting and we are very glad that most of our pools are fishing well!
But its not all about the fishing, its as well about the experience of being on the river for the season start, when all begins, and nobody really knows what to expect – and we are all excited to watch how it unfolds- so far so good! So fingers crossed it keeps on going well!
While our fishermen are trying hard to catch fish our two chefs Gaby and Andreas are making sure that our Lodge guests are enjoying themselves between fishing sessions- and keeping them well fed, and ready for action. Below are some shots of a few of the delicious dishes they have been preparing for our guests.
The prospects for the season thus far look promising, and while the river is quite unusually low for this time of year, the fish are entering the river consistently, and we are excited to follow how the season unfolds.
We will keep you posted – we can't wait for today's catch report!
Sincerely,
Your team at the Norwegian Flyfishers Club.