Sorry, we are bit slow on updating the website, but we assume most of you follow us on social media and are basically "up to date". The fishing in the past weeks has continued as the whole season. There are no big numbers caught but a lot of very big fish and beautiful fish we were able to catch and release lately.
April Vokey, her husband Charles and their lovely daughter Adelaide visited us for a a fishy family vacation. April and Charles both caught some fantastic fish during there stay at NFC. Charles started with a stunning fish from Beat B1 of 100cm.
Charles with his first salmon of the trip – 100cm from our Beat B1.
But a few days later April fished the same Beat and now it was her turn. She fished with her litte daughter Adelaide on her back and hooked into a very good fish, she lost it, then a short time later she hooked another good fish and finally she was able to land a fantastic Gaula salmon of about 9,5kg (21b).
April Vokey and Adelaide with a beautiful Gaula salmon.
The trip for both should end with even bigger fish! First Charles was able to catch another great of fish of about 12kg (26.5lb) after a strong fight. That fish took him down a couple of 100 m!
Charles Barrett with his 2nd big salmon of his stay.
Just before packing up and leaving to the airport April decided to fish once more B1 which was on the rotation schedule. She only had 1hr left until they should hit the road back home. But well, just after a few casts a big fish took her fly and she was bale to land her biggest Atlantic salmon which we estimated to weigh easily 14kg (31lb) – what a fish to end fishing trip!
April Vokey with her fantastic salmon – the smile say it all! Congratulations, April!
There have been plenty of other nice fish caught and released during the last two weeks for example from Italian angler Luca Versetti was able to catch his first Atlantic salmon ever.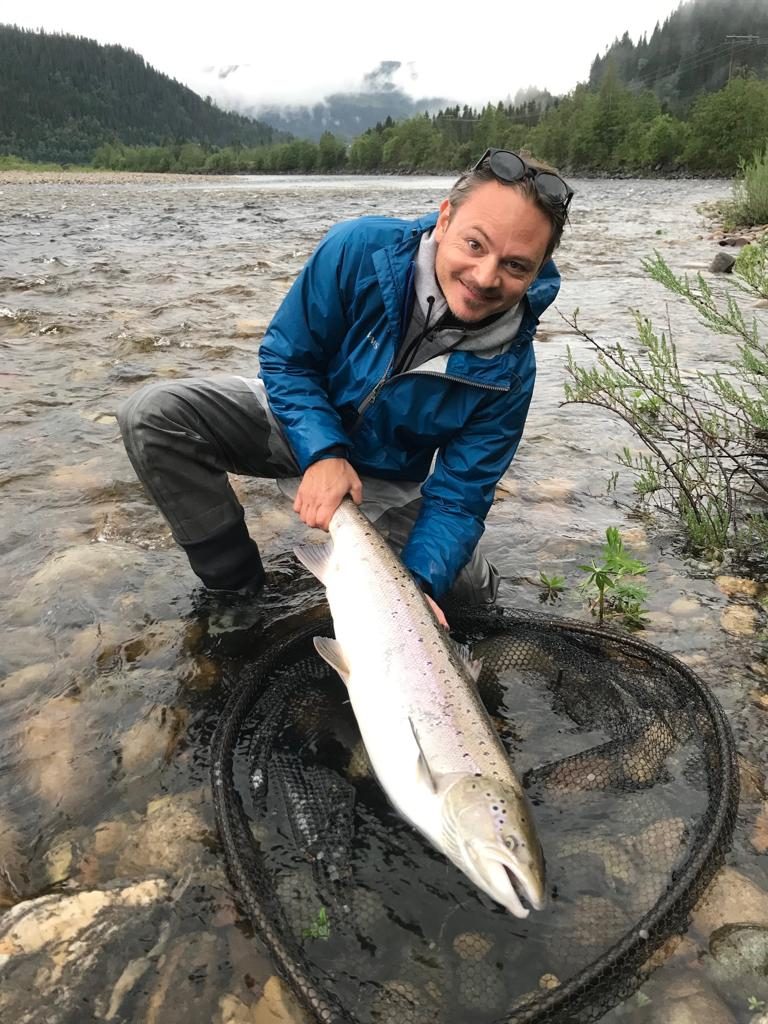 Luca and his beautiful fish of 88cm – well done!
At Beat B2 Thies Reimers could catch is next salmon of about 6kg (13lb). Jean-Luc Verstraeten caught a very big fish on Beat B1 of about 12,5kg (27.5lb) while Bruce Lindley caught another good fish on Beat B2. Bruce measured 97cm and estimated the salmon to weigh about 9,5kg (21lb).
Bruce with his late evening salmon from Beat B2 – 97cm of Gaula silver!
American guest Mark Fitzsimmons got a real good fish of bout 10kg (22lb) just on the other side of the Lodge and another grilse.
Thomas Mahnke managed to catch another very good fish from Beat B1 of 100cm.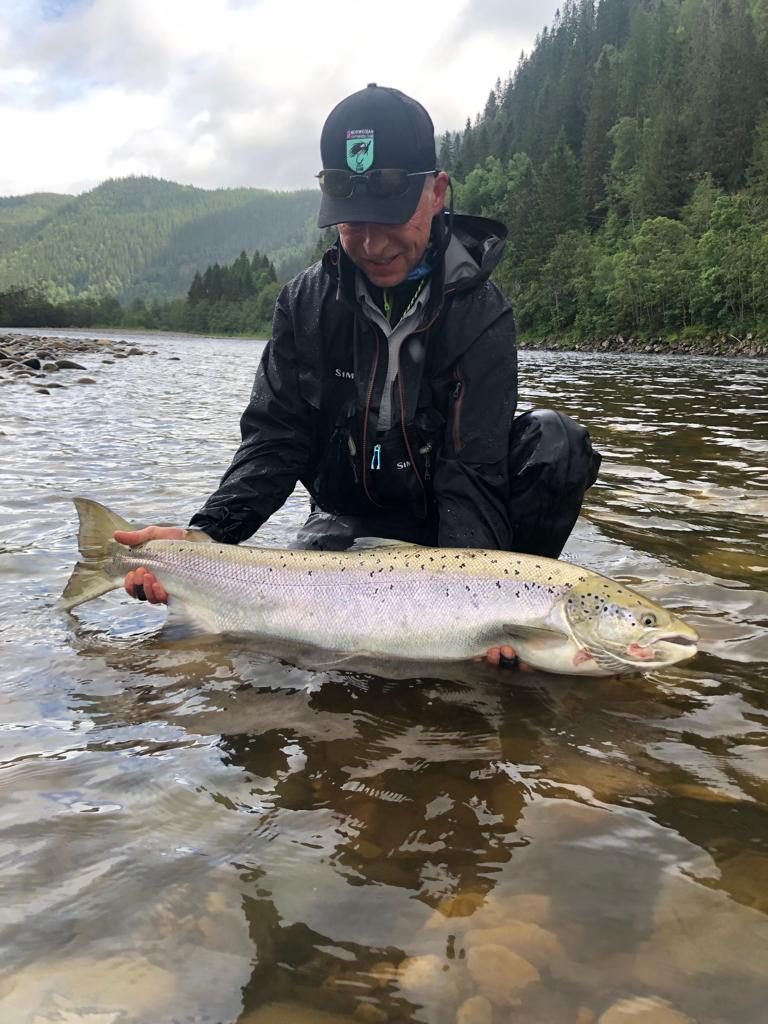 Thomas with his fish from Beat B1  – a very deep fish!
Jean-Luc Verstraeten got another nice fish of 6kg (13.5lb) at our Lodge Pool. Hernan Garcia was successful as well and could catch a beautiful salmon of 10,5kg (23lb).
Hernan with superb salmon. 
Scottish guest James Chalmers fished our Bua Bridge Pool and managed to keep the fish in the Pool despite quite high water for that Pool and landed a salmon of 98cm up there.
James and his Bua salmon of 98cm.
Alexander Barsikow caught another nice fish of 6,5kg (14.5lb) at our Lodge Pool.
Alex with his nice fish holding it under water.
Gust Florus and Charles Barret had each another 6kg (13lb) salmon on Beats E1a and L1. On cannot really say that part of the river fishes better than the other, fish are caught basically in all of our Beats. Its much more a matter of timing to be at the right spot at the right time, since there are not that many resident fish yet. The water levels we experienced animated the salmon to keep travelling only with dropping water they will settle down.
Thies Reimers it it once more right and could land two fish on Beat G1, a grilse and another good fish of 7,5kg (16.5lb).
Also German fisherman Jan Hocke had a good week and caught some nice fish, fro example that great fish of 97cm from Beat A1.
Jan with a nice fish from Beat A1.
Also his fishing partner Frank Schauer caught two really good fish. One of them as well at Beat A1, measuring 103cm.
Frank and his salmon from Beat A1.
Thomas Mahnke fished our Lodge Pool again on his last afternoon of his trip and caught a beautiful fish of 100cm.
A farewell salmon for Thomas for this summer. Such a beautiful clean fish – well done, Thomas!!
Tim Preston, Eric Soule, Manfred Raguse, Fredrik Rekshammar, Andreas Ramsby caught some grilse, while Andreas caught another medium sized fish of 6,5kg (14lb) at Beat B1.
As well Fabrice Bergues managed to catch another 6,5kg at Beat BS1 and together with his girlfriend Nathalie he caught another big fish of 10kg (22lb) in the very same Beat.
The big fish putting a bend into that rod.
Nathalie holding the big fish of 10kg (22lb).
A couple of grilse were caught by Sacha Pütz from Germany he also caught medium sized fish at Beat A2 of 84cm. Andreas Ramsby had another nice fish of 6,5kg at Beat E7a (after losing a really big fish under the Bridge!). His fishing partner Fredrik Rekshammar caught a 82cm salmon at the same spot and got another fish of 84cm Swedish fisherman Jonas Bergmark was bale to catch and release a salmon of 82cm in our Lodge Beat. Also Mawill Lüdenbach could catch 3 salmon during these days, one fish in Beat A1 another fish at Beat G1.
Mawill with his fish of 91cm from Beat G1.
Mawill with a very strong fish of  87cm from Beat B1.
Also Nathalie Moriceau caught another very nice fish of 6kg (13lb) at Beat E1a.
Nathalie with a super fresh fish from Beat E1a.
There have been several more fish caught already, we just have a hard time keeping up with the updates during very busy prime time with a full Lodge and Rotation, but please follow us on our social media (Facebook and Instagram) where things get posted quicker and are a bit more up to date.
As we mentioned earlier, the number of caught fish is not impressive but we certainly get a really good amount of quality fish, which means any time you hook into a fish it might be a very big salmon and its well worth all the hours one put into it!
We will keep you updated.
Sincerely,
your team of the
Norwegian Flyfishers Club