This season thus far, is one for the record books. The river has not been this low- and certainly not at this point in the season – for nearly 100 years. With a water level approaching 5 m3, we have never seen the river this low. But, regardless of the low water, fresh fish seem to be continuing to run the river, and our fishermen are catching fish.
Andreas Winter caught another two fish on our Beat at the Lodge – one of 6kg (13b) and another of about 7kg (15.5lb).
Andreas with his 2nd of fish of his session – approx. 7kg (15.5lb).
Also newly arrived regular guest Robert Ramisch from Germany caught a nice fish on the same Beat, in the pocket just a bit above. Robert's fish measured 93cm and was estimated to weigh about 8kg (17.5lb).
Robert took a selfie with his salmon of 93cm.
The same evening Thomas Mahnke caught another fish at the same spot measuring 82 cm, as well Jean-Luc Verstraeten who was able to catch and release a great fish of 91cm, approx. 8,5kg (18.5lb).
Thomas with his salmon of 82 cm from the  small pool above the Lodge.
On the E-Beats a couple of grilse were landed by Adrian Kendrick and Manfred Raguse, as well some smaller seatrout by Mathias Vorweg and Werner Brinker.
Then our Belgium guest Gust Florus, fishing beat E1a, managed to hook into a nice salmon which he estimated to weigh about 6,5kg (14.5lb).
Gust with his fat salmon of about 6,5kg (14.5lb) from Beat E1a.
Next up was long time regular and flytier Sacha Pütz from Germany, who had a good start to the week with a fish of 6kg (13b) on Beat C1 followed by two big fish on Beat E6 on the next day of about 8kg (17.5lb) and 8,5kg (18.5lb).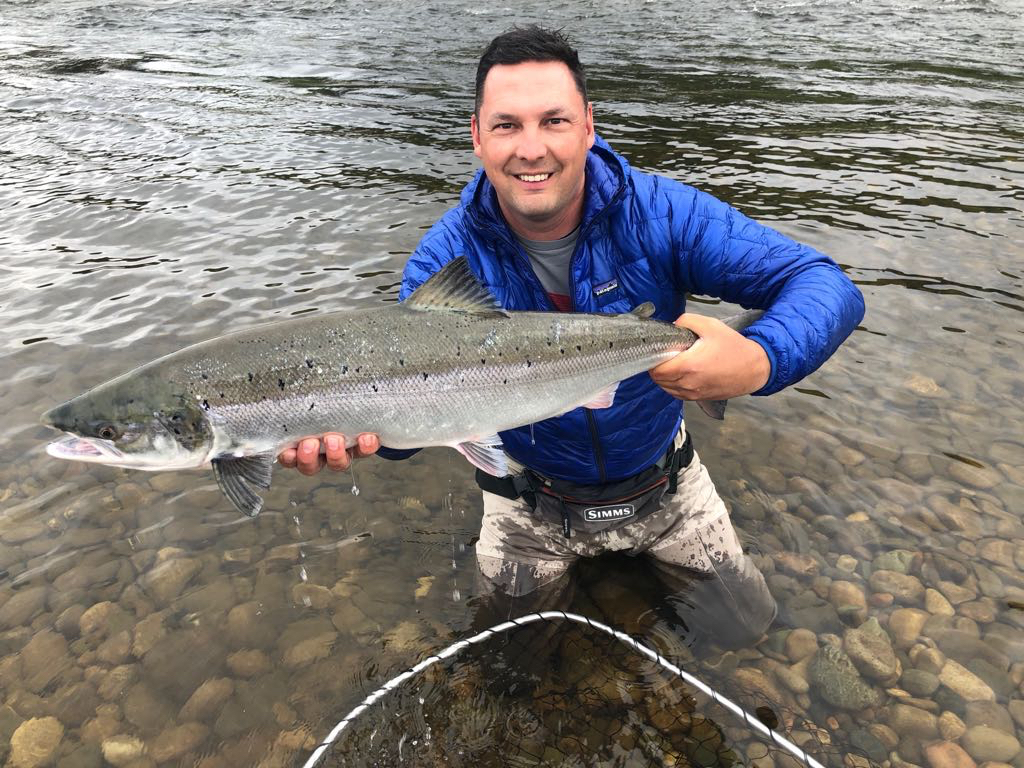 Sacha with his first fish about 8kg (17.5lb) of the session on E6.
Fish Nr. 2 – even a bit bigger – weighing in with 8,5kg (17.5lb).
There also seems the number of seatrout has increased – as there have been a good number as "by catches" caught and released of our fishermen on the lower river.
Then it was Jan Hocke from Germany who landed a nice fish from E2 measuring in at 86cm.

Jan with his salmon from Beat E2 – measuring 86cm.
As the days dragged on, the river continued to drop to even lower levels, and fish began to concentrate in the faster, more oxygenated water at the heads of the pools.
But regardless the level, our Danish guest Poul Nielsen tried fishing our Beat BS2 – and he has some good action. After two fish boiling under his fly he hooked a nice fish and was able to catch and release a good fish of 88cm, estimated to weigh about 6,5kg (14.5lb).
Poul with is beautiful salmon from Beat BS2.
Also Andreas Winter was successful again, as he managed to catch and release his next salmon on Beat E7.
Andreas with a fresh fish of about 4kg (9lb).
The catches continued through the end of last week, with Mathias Vorweg, Hans E-Wolff , Hernan Garcia and Christian Tamcke all able catch a few more grilse. Christian also caught a good sized fish of 90cm estimated to weigh about 7kg (15lb) on Beat E6.
The river situation is as mentioned still historical low for this time of year. The best conditions are still in the lower river, where fish are continuing to run the river, as well as in the faster currents of each pool. But our fishermen are getting experimental and we had action on dry flies and hitched tube flies as well.
Sunday to Monday we received a bit of rain and the water rose back up to 30 cubic  – and with that rise, the fishing conditions improved, and we managed to land several nice fish already! We will keep you posted in a few days with all new catches of the river.
Sincerely,
Your team at the
Norwegian Flyfishers Club