Following week 28, the fishing continued to drag on slowly, with no rain in sight, and warm days and nights. Week 29, typically a primetime week, was framed by extremely low water, and only a few fish caught. Of course, NFC regular and friend, Andre Scholz who always manages to entice fish regardless of the conditions, started the week of well with a 107 cm salmon from Beat E1a, estimated to weigh about 11,5kg (25.5lb)! Andre managed to catch a few more grilse and another good fish of about 6,5 (14.5lb) during his stay. A few of our other fishermen caught a number of grilse during the week, but the water dropped down to nearly 10 cubic, and of course, with dead low water, the fishing continued to be slow.
The prognosis for week 30 looked even worse than the week before – the weather forecast promised rain which never came, so by end of the week we reached an all time season low of 6 cubic at Gaulfossen and water temperature well above 20 degrees..! The river management, after gathering enough good water temperature data, took the difficult, but wise decision to close the river for fishing until the water conditions changed. While we were disappointed to have to cancel for a number of guests the trips, we fully supported the decision of the river management, and to protect our wild stock of salmon, we had reached a point where ethically it did not feel right to fish. The river was ultimately closed for 5 days – meaning that week 31 was basically a total wash- no fishing to be done.
When the rain finally did come- as the forecast predicted, and the river management reopened the fishing, we decided to rest our waters for 2 additional days, making sure that the rain and flooding we were praying for arrived, and reopened our beats on Saturday August 4th. Finally the forecast was accurate, and heavy rain began to swell the river, which quickly rose to over 100 cubic and Thies was was ready to get his line wet again, and was answered with two nice fish! A nice fish of 7,5 kg (16.6lb) and even bigger one on beat B1 of 9kg (20b). As well as Hernan Garcia, who managed to land a good fish of 88cm on Beat C2 that same night.
Thies with his nice fish from Beat B1.
And here Thies holds his fish from Beat BS1.
Sunday morning we woke up after heavy rain falls overnight, and the river had risen up to 300 cubic – quite colored from all the dirt and sediment which had built up from the long dry period. So Thies and Daniel had their first Sunday off all season, and decided to have a go at beat BS2 – and they certainly hit the jackpot! They landed 7 fish within 3 hours between 3 and 8,5kg (6.5lb to 18.5lb) and hooked a couple of more – the Gaula was back in business!
Thies holding a 6,5kg (14.5lb).
Thies holding a 7kg (15.5lb).
And another 5kg (11b).
This one was about 5,5kg (12b).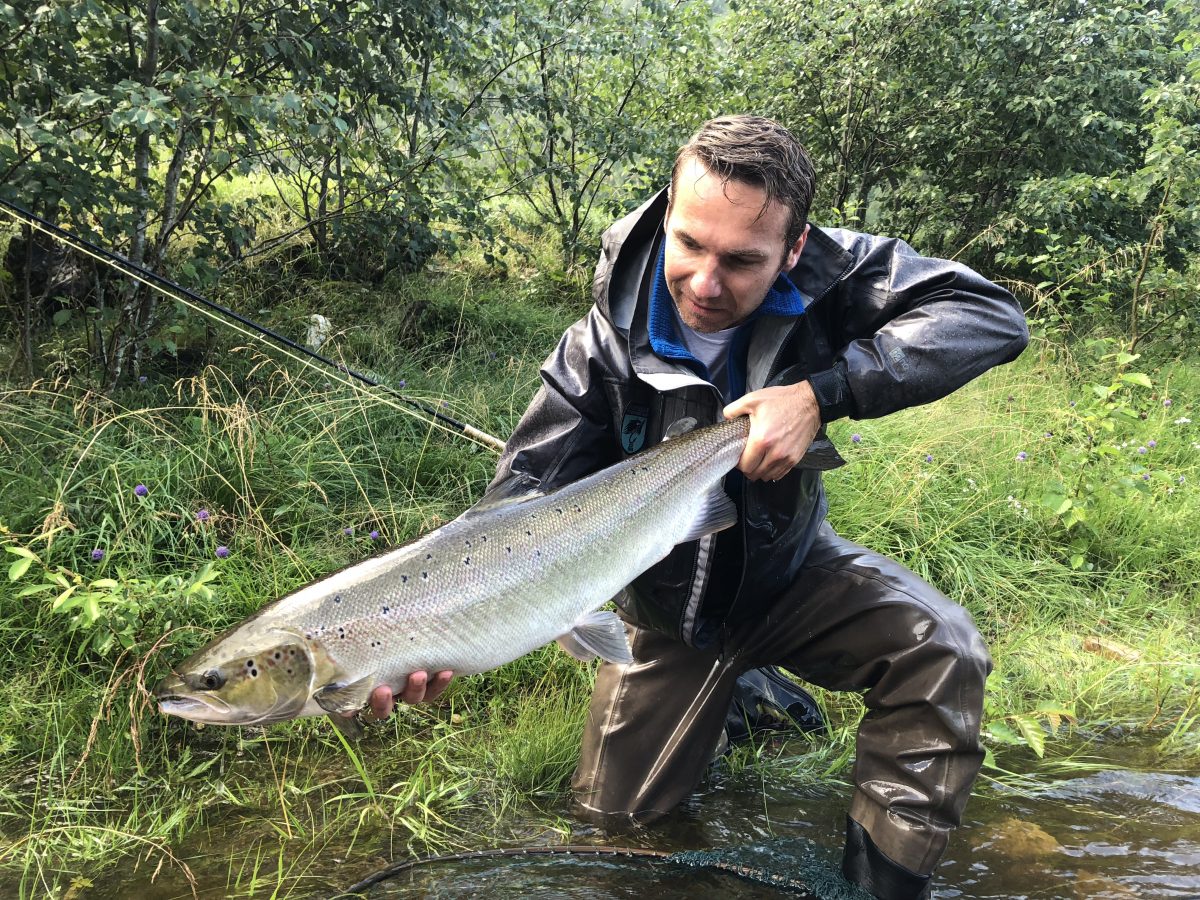 Also Daniel was able to catch and release a nice salmon of 8,5kg (18.5lb).
On the next day NFC owner Per Arneberg was able to catch and release a good fish of 89cm from BS2 as well. Daniel got another grilse as well, but the water was dropping as fast as it rose – which slowed down the fishing for a few days – but we managed to land a couple of grisle, as well as Thies who landed another 8kg (17.5lb) salmon on beat B1, and our American guest David Williams who was able to land his first Atlantic salmon ever! The forecast called for lots more rain, and the weather gods obliged, and it started to rain heavily from Wednesday night! Once again the forecast was finally correct- and the river started to rise rapidly.
Our newly arrived Swedish and Norwegian guests had a good start into their long weekend at NFC, but the first salmon of the day was caught by Per Arneberg again, just before he had to leave the Gaula valley for the season – and it was a great one of 102cm and super fat, estimated to way about 11,5 kg (25.5lb). A wonderful farewell salmon from the Gaula!
Per with a salmon-selfie at Beat B1 – a good way to say good bye to our beloved Gaula river!
Anders Langtind from Norway caught a nice fish on our Lodge Pool of about 5 kg (11b). Timo Järvinen landed a grilse and also David Williams landed his next smaller salmon on the E-Beats. Just a little bit later that same day David landed his next salmon in our Lodge Pool. David did very well for the first time fishing with the double hand rod and for Atlantic salmon!
Hernan holds David's beautiful salmon of about 6,5kg (14.5lb) – well done David!
During the afternoon it was pouring rain, and the small creeks and waterfalls around the valley overflowed with water and the river rose quickly. So by 10.00 pm Daniel and Thies realized there was a serious flood on it's way and they decided to do drive down to secure the benches at the E-beats and the river benches at Lodge Pool! A wise decision because during the night the river rose over 700 cubics – suddenly the Gaula was massive and looked like a early spring flood! We had almost forgotten after such a long dry period how this river could look – but we knew that as soon the water started turning the fishing should be really good- and it didn't take long for our guests to prove it. At 8.00 am in the morning the river turned and newly arrived guest Andreas Grass who came back for a few days fishing, started in one of our best high water pools BS2 – and it only took a few casts until he hooked into his first salmon – a quite fresh fish and very well conditioned!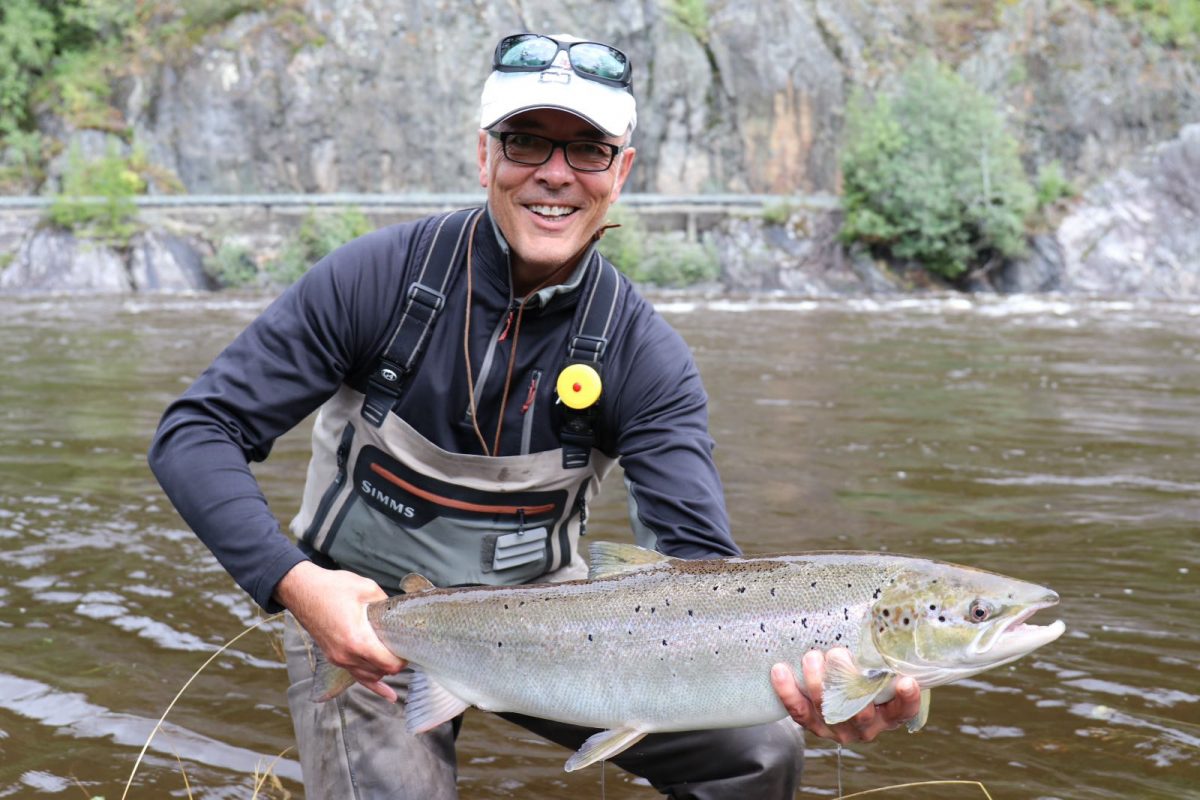 Andreas Grass hold his first fish after the flood – 8,5kg (18.5lb).
Timing is everything, and lucky for Andreas he came back when he did – as he managed to land 3 more salmon on Beat B1 between 6,5 and 9,5kg (14.5 -20.5lb).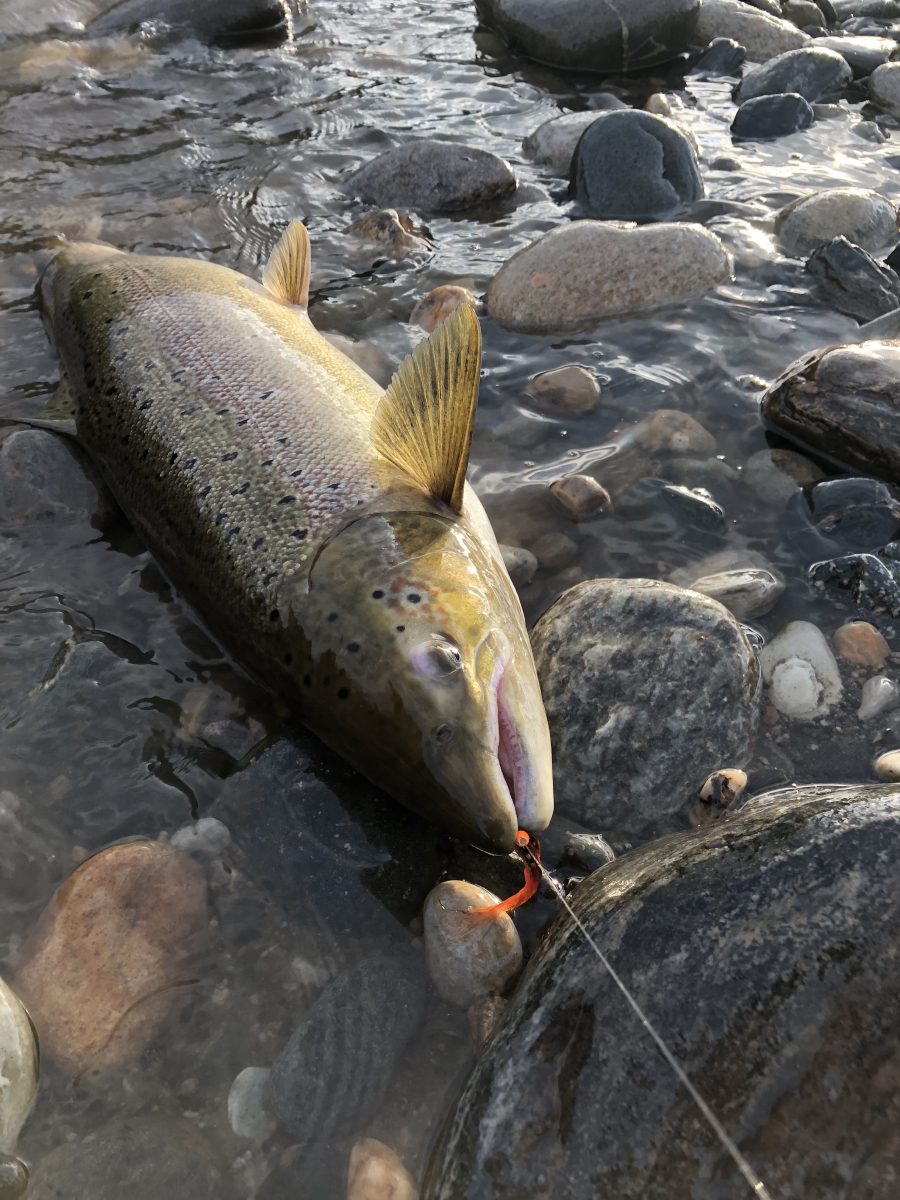 One of Andreas' salmon from Beat B1 – 87cm.
Another good fish from Andreas of 90cm at B1.
While the water was still very high our Swedish guest Peter Johansson was able to catch and release a remarkable seatrout of 75cm  – roughly about 5kg (11b) which is a big seatrout on the Gaula and not many of that size have been caught during the past years!
What a seatrout from Beat G1 – well done, Peter!
Also our Norwegian guest Bjørn Forsmark had a great time a caught 3 grilse during his short stay as well as his fishing partner Urban Jansson and Timo Järvinen had a grilse each. Our Norwegian local guests Niklas Zellin and Kristoffer Løkken came over from the Orkla and fished the first time on the NFC Beats and managed on their first evening to catch each a good medium sized fish of 5 and 6kg (11 and 13lb). Our Swedish chef Per Högvall came back for the weekend to work and took a few casts after dinner, in his sneakers and jeans, and landed a nice fish of 8kg (17.5lb) on the single handed rod!
We also had a local Norwegian couple Anna Lunde and Petter Dragvoll fishing with us for a day. Anna managed to land a big fish of 97 cm on our Beat C2.
Anna Lunde with her salmon from Beat C2.
Timo Järvinen caught a nice fish on beat G1 of 90 cm, roughly about 7kg (15.5lb). This fish was radio tagged and we reported the number to the Naturesenter – quite interesting to hear where the fish came from and how his journey has been! (We will report back when we hear more about this fish's journey)
Timo Järvinen with his 90cm salmon from Beat G1.
On the next day Peter Johansson landed a nice fish on beat G1 of 86cm.
Peter Johansson with his fresh salmon from Beat G1.
On the E-Beat Kristoffer and Niklas landed a couple of grilsee and another 4,5kg (10b) salmon.  As well as Daniel who had a great day and landed 4 salmon and a seatrout during the day. The first 3 fish on our Lodge Pool were caught within 45 min during the first round he made!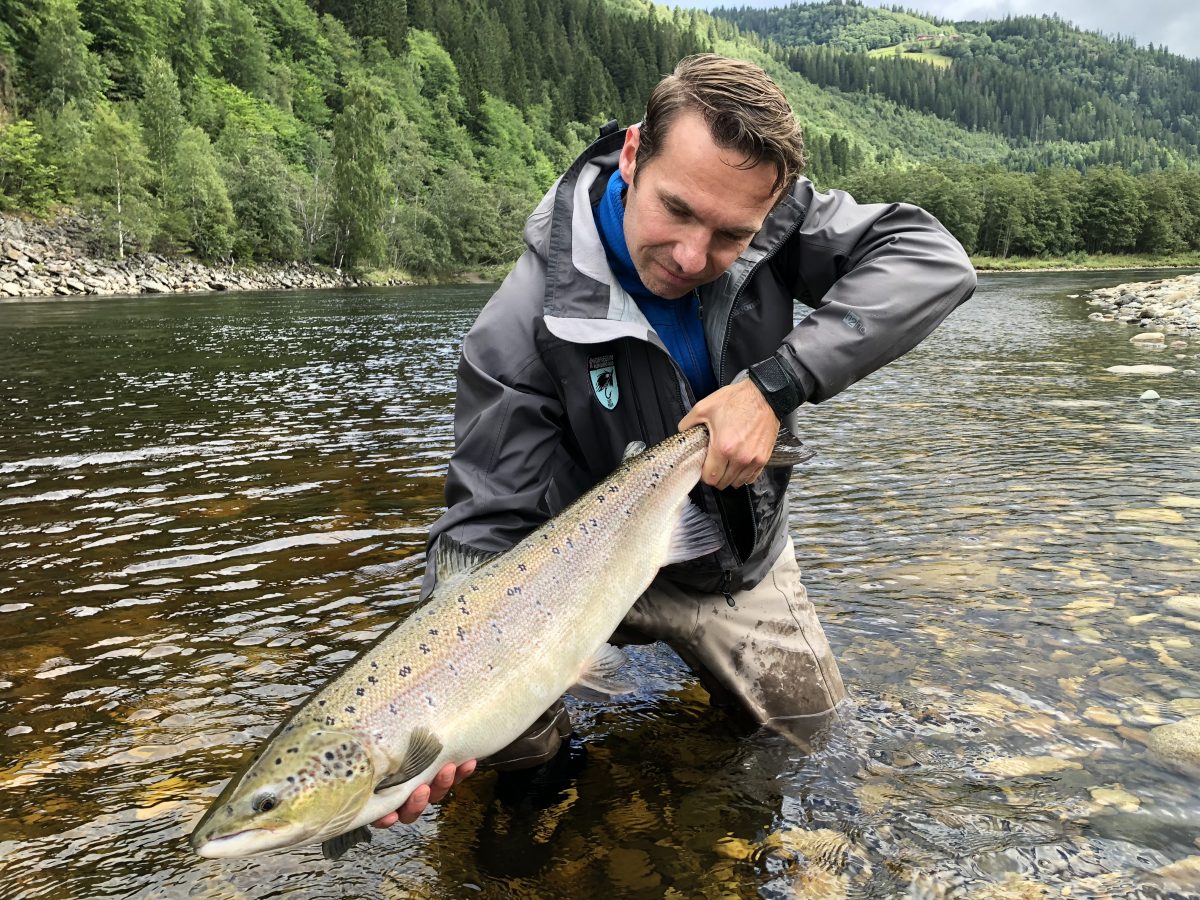 After releasing a grilse – a few casts later Daniel hooked into this 6kg (13lb) salmon.
Just shortly later the next fish was landed by Daniel, and there seemed to be some fresh fish running the river now.
A nice 6,5kg salmon from Lodge Pool – it has not been long in the river.
During the evening Daniel fished beat B1 and landed his 4th salmon of the day after releasing a good seatrout of 2,5kg (6lb).
A nice one from Beat B1.
During the later evening Kristoffer Løkken fished our beat C2 and hooked into a big fish – shortly later he was able to release a very nice salmon of 110cm!
Kristoffer with his big fish – 110cm! Well done!
But that should not have been the only a big salmon landed on that day. Also Stein Erik Lid from Norway arrived in the afternoon and after 2 grilse he landed a superb fish of 105cm, about 11,5kg (25.5lb) on beat A1.
What a cool looking fish – Stein Erik's 105cm from Beat A1.
Erledn Granøien fished beat BS1 and was able to catch a nice salmon of 88cm up there. The fishing really turned on and there were fish to be caught in every pool.
Erlend with his 88cm salmon from Beat BS1.
The next day stared very well for regular guest Johannes Kahrs who just arrived the night before. He landed 4 fish during the morning between 2 and 7,5kg (5 and 16,5b) on Beats BS1 and A1. Also Kristoffer landed his next two salmon of 4,5 and 5kg (10 and 11lb) on Beat B2.
As well as Andreas Grass who continued to catch more fish on Beats BS1, C2 and B1 up to 5,5kg (13lb). In 4 days fishing Andreas was able to catch and release 9 salmon! Well worth a short trip up tot the Gaula!
Thies got 4 more fish between 4,5 and 7kg (10 to 15 lb) on Beats G1 and B1, a couple more grilse have been landed by Stein Erik Lid and Jon Angelsen. On the next day Johannes Kahrs caught 3 more salmon 2, 6 and 7,5kg (5, 14, 16lb) on Beats A1 and BS1. In the end of his week he had 12 landed grilse and salmon!
Daniel caught a  nice salmon on Beat E1a – about 6kg (13b).
Daniel with his salmon from the E-Beats.
It has been really crazy fishing after the flood – we have not been many people on the river and caught very good numbers of salmon and as well good sizes! Just before leaving Norway Hernan Garcia landed a nice fish on our Beat M of 87 cm – the Gaula's way to say good bye to people these days.
The number of salmon between 6 and 7kg (13-15lb) is impressive and a very good indicator for next summer 2019 to be a big fish year. But first of all we have to finish season 2018 in a few days. We will report the last two weeks with a wrap up of the season and some really big fish in an extra update shortly after the season ends on Friday the 31st of August. Stay tuned – some big fish will be shown here during the first days of September!
Sincerely,
Your team at the
Norwegian Flyfishers Club