Since our last update we experienced somewhat strange fishing – the numbers of the fish we caught have not been very impressive but the average sizes are extremely good and as well exceptional salmon have been landed!
The biggest fish this season so far has been landed by Lodge manager Daniel Stephan. he took a chance and went fishing after work and hooked into really big salmon. After an amazing fight, following the fish several Beats downriver, NFC-chairman Per Arneberg (after taking a swim to help the line not got stuck in trees) could finally net Daniel's fish. We have caught a few bigger salmon on our Beats over the years but that fight was definitely one to remember. The salmon measured 122 cm and we weighed it in the net with 17,1kg (38lb).
Daniel holding his huge salmon of 17,1kg (38b).
A different angle, which shows how big that fish is!
Amazing Gaula salmon, of course safely returned! What a fish!
But we have caught many more great fish during these days. The average weight of the salmon we are catching is very impressive this summer. A lot of fish between 95 and 105cm have been caught and released – which actually are all big fish!
Once again Thies Reimers caught another big salmon at Beat D2 and landed it in Beat C1.
10kg (22lb) of a bar of silver! These June salmon are simply beautiful. Well done, Thies!
Also German regular Andreas Grass caught a nice fish at Beat BS1 during week 25 of 97 cm (roughly 9,5kg/21lb).
Andreas Grass with his beautiful salmon from Beat BS1.
Other great fish have been caught by Birger Nordberg at Beat G1 of 94cm and Trond Wise Hansen who was bale to catch two fish of 90 and  91 cm at Beat BS1 and G1. Also regular Johann Bstieler was successful and caught and released two 3 salmon of 60, 63 and 77 cm, all of them down at the E-Beats. German guest Dieter Brede caught a nice fish of 90cm at Beat B1.
Dieter Brede with his nice fish from Beat B1 of 90cm.
Thomas Mahnke and fishing partner Poul Hansen were successful on the very same Beat and caught each salmon in their session.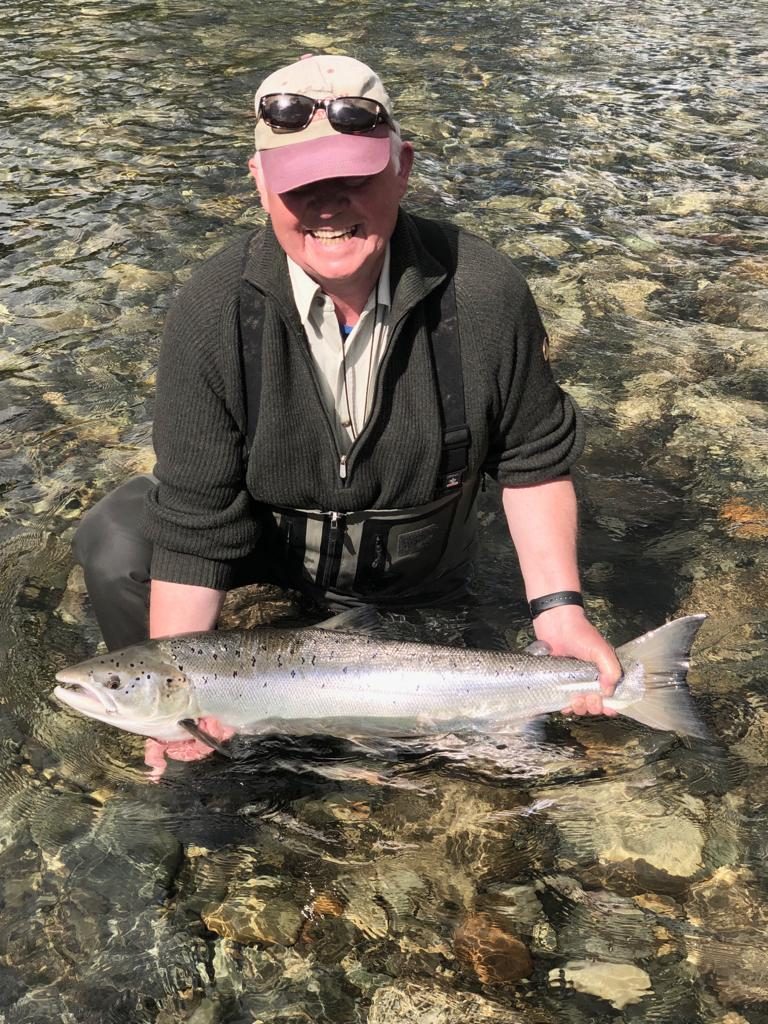 Poul with his fish of 93cm.
Thomas with the 2nd fish of the session – a quite fat fish of 88cm.
Also our french ambassador Fabrice Bergues was successful and Beat G1 and was bale to land a big salmon of 101 cm. That fish has been quite massive and weighed about 10,5kg (23b) at least.
Fabrice playing his big fish.
Fabrice's big fish of 101cm from Beat G1.
Maurizio Restaino caught another grilse aat Beat A1 and Alexander Barsikow could catch a nice salmon of 8kg (17lb).
Alex with his nice fish of 8kg (17lb).
Tom Lee and Harald Edman just arrived and got into the waders and fished Beat G1 and after 1 hour of fishing Tom was able to catch his first Gaula salmon of 104cm, what an amazing start fishing in Norway.
Harald with Tom and his first Gaula salmon – 104cm from Beat G1.
Celebration after releasing the fish: Tom and guide Maurizio having a great time!
Another really great fish has been caught in our Bua Bridge Pool (tributary to the Gaula). Reto Suremann from Switzerland landed a big salmon of 110cm in that little river under the Bridge! Those big fish in that little spot is very tough to hold! Well done, Reto! We estimated to weigh the salmon about 13,8kg (30lb).
Regular guest Mortan Carlsen fished our Beat BS1 and caught two nice fish of 105 and 80cm.
Mortan playing the bigger salmon at Beat BS1.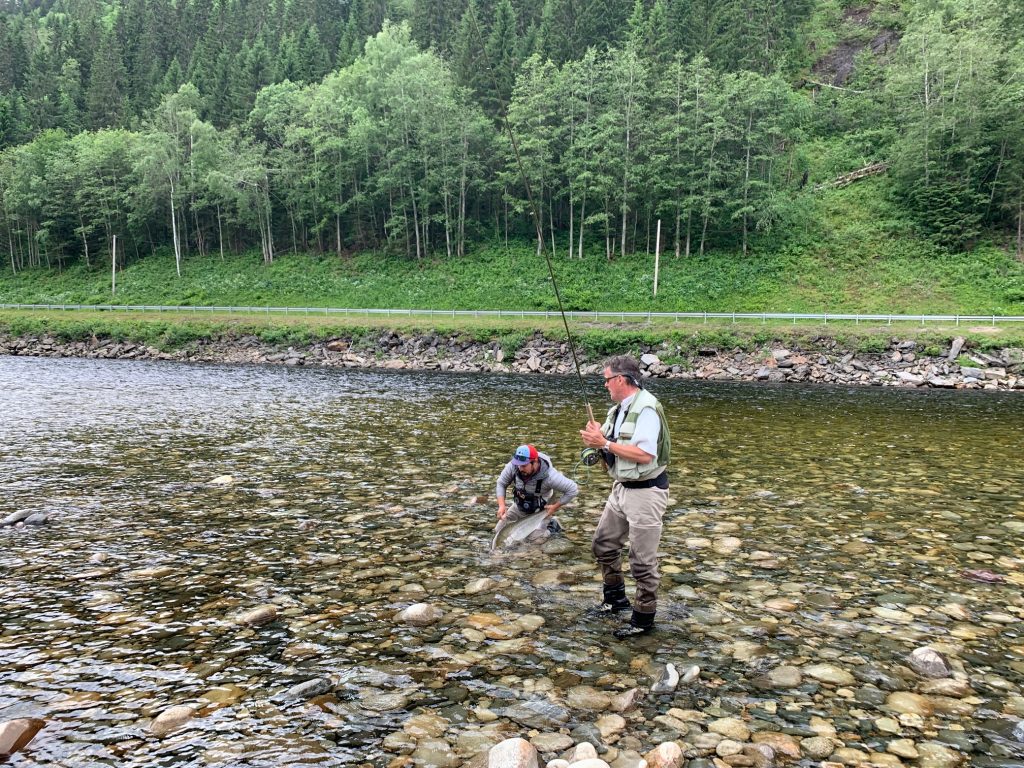 And there Nanchi is landing the fish for Mortan.
Mortan with his great fish of 105cm – these fish are very strong!
Mathias Vorweg caught a grilse at Beat E1, Christian Pauli a nice fish of 89 cm at Beat E7a under the Bridge. Also Johan Bstierler was success full again on Beat E2 and caught and released a nice fish of 93cm. German guest Gerhard Wiese was bale to catch a nice salmon at Beat C2 of 80cm and so did Thomas Mahnke, the same size and the very same Beat. David Wilkinson came over for the weekend and caught a nice fish of 74cm at Beat BS1.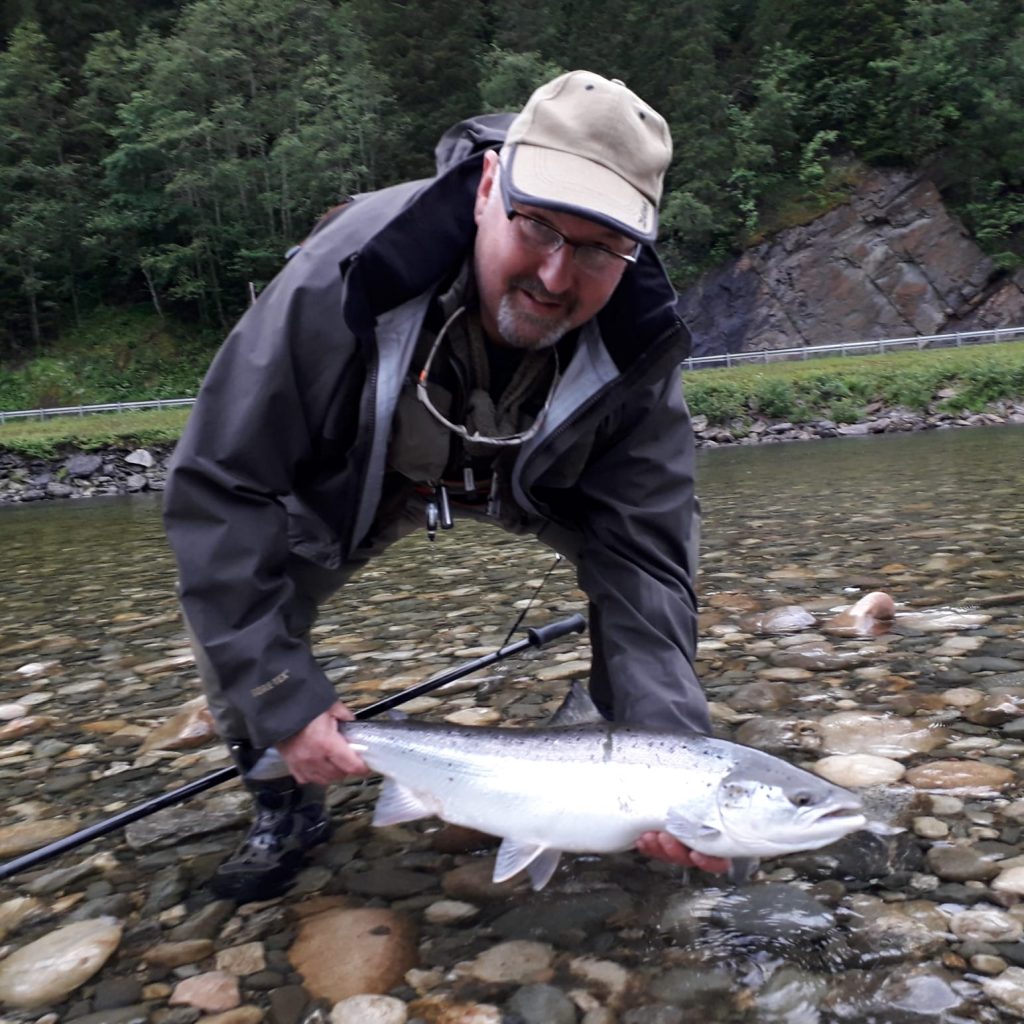 David with his salmon from Beat BS1 – very fresh. They are running quickly upstream!
Mortan Carlsen caught another salmon on the E-Beats and a really good fish on Beat B1.
Mortan with his salmon from the E-Beats.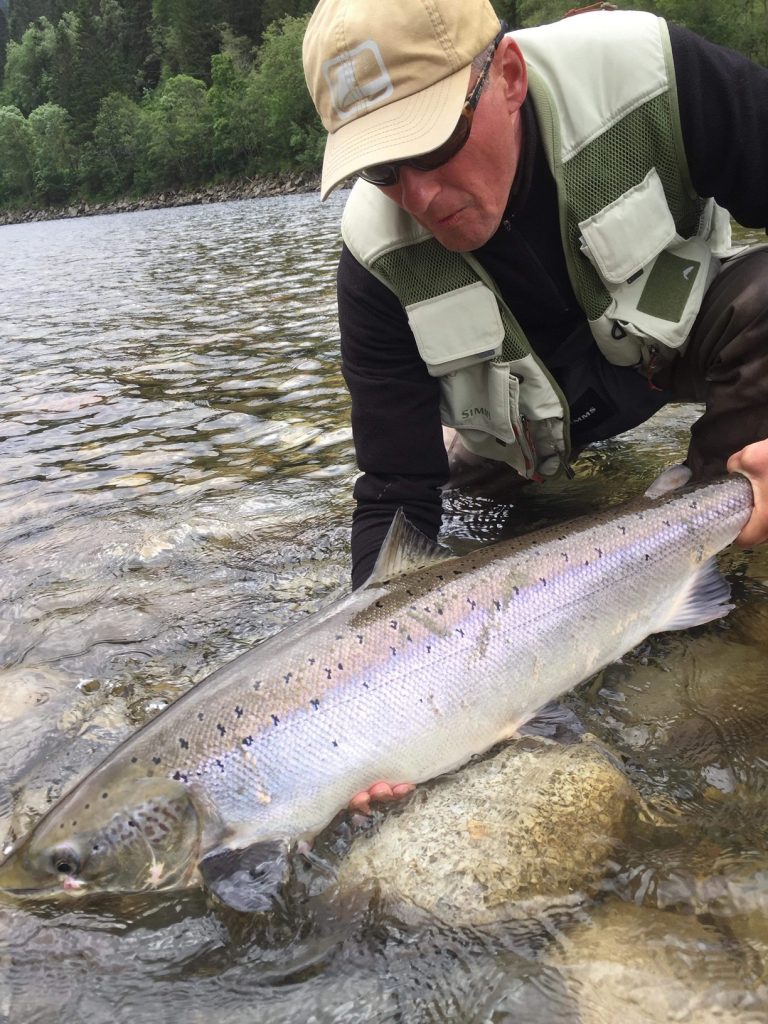 103cm of silver from Beat B1 – a good end of the fishing week for Mortan!
After some days of hard work also our regular Japanese get Takuo Noda was bale to catch a great salmon of 105cm at Beat E1a.
Takuo Noda with his superb salmon from Beat E1a – well done, Takuo and very well deserved!
As everyone can see the fish we are catching are really good fish. They are in very great condition. One normally would expect higher numbers by that time of the season, but due to the very cold weather the medium sized fish might be just late and arrive two weeks later than usual, we have to wait and see how things develop during the next days.Anyway, our guests hooking every day in some good fish. Catch reports are coming in and we are very exited to see what the July weeks have to offer us – some very big fish are around, as well know!
Sincerely,
your team of the
Norwegian Flyfishers Club